---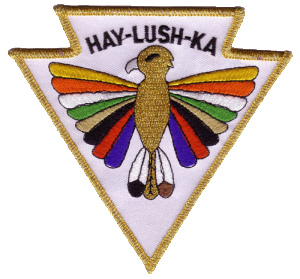 Hay-Lush-Ka is a fun awards program that provides additional opportunities for parent and child to share experiences in working, learning and earning together. Part of the fun is that both the parent and child must participate or complete the activities individually so that they can earn the awards together.
The award activities are designed to provide an appropriate level of achievement for the children, while still not being too challenging to complete.
---

Download the Hay-Lush-Ka Study Sheet ->
---
The Primary Awards are designed so that even the youngest kids can get involved and join in the fun of Achievement and Recognition with their parents early in the
Indian Guides program. Most of the awards provide different options for completion, to provide the parent and child some flexibility, choice and diversity in how they participate in the Hay-Lush-Ka program.
These award activities are designed to foster and promote:
Self confidence
Personalizes the meaning of the Indian Guides program aims
Builds a sense of community with the Tribe
Teaches kids how to use their hands to make things
Enhances an appreciation of the things that the Great Spirit has surrounded us with in forest, field and stream
There are Nine Primary Awards:
Starter / Songs / Campout
Program Goals / Names / Craft
Recruitment / Nature Trip / Meetings
And Three Advanced Awards:
Community Service/ Nature Report/ Outdoor Skills
The Primary Awards are "tested" at Tribal meetings by the Tribe Chief.
Advanced Awards are "tested" at Nation Campouts by the Hay-Lush-Ka Council.
Please note that all 9 Primary Awards must be completed before attempting to test for any of the Advanced Awards.
Download your Hay-Lush-Ka Study Sheet and get started today!